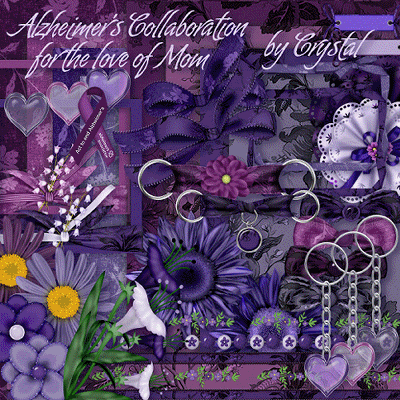 All sales from this kit are going to The Alzheimers Society registered Charity No. 296645.
For more information, go here:
http://www.alz.org/index.asp
(US)
http://www.alzheimers.org.uk/site/index.php
(UK)
This kit is HUGE!!! It contains a total of 480 items!!! in both full and tagger size.
Full Size:76 papers15 frames147 elements2 alpha
Tagger Size:81 papers26 frames133 elements
Check it out at
Digital Chaos
!
This Designer's Collab is brought to you by all of the Designers at Digital Chaos!
Alzheimer's is fast becoming a real problem to the elderly, and 'near - elderly' people in this world. There is nothing harder than to have to watch someone you know and love become afflicted with this dreadful memory-robber of a disease. It has already touched my own life because my own Mother has it. She is 91 years old now, and sometimes she remembers things clearly, other times she forgets from one half hour to the next. It's even sadder when sometimes I am visiting her and I get the feeling that she really doesn't know just exactly who I am. It's so very sad, and something I wish we could find a cure for, and soon! For that reason, we have all come together to bring this wonderful collaboration to you, and all the proceeds are going to the Alzheimer's foundation, to further the research that is needed. We can't do it by ourselves, but by coming together, we can all make a difference! ~Crystal~